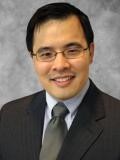 Doctors
PRACTICE LOCATIONS
SONORAN SPINE CENTER
2610 NORTH 3RD STREET, SUITE B
PHOENIX, ARIZONA 85004
Office 480-962-0071
SONORAN SPINE CENTER
1255 W. RIO SALADO PKWY., Suite 107
TEMPE, ARIZONA 85281
Office 480-962-0071
SONORAN SPINE CENTER
2557 S. VAL VISTA DR., SUITE 103
GILBERT, ARIZONA 85259
Office 480-962-0071
SONORAN SPINE CENTER
13760 N 93RD AVE., SUITE 111
PEORIA, ARIZONA 85381
Office: 480-962-0071
Dr. Chang specializes in all diseases and disorders of the adult and pediatric spine and particularly enjoys adult and pediatric spinal deformity as well as disorders of the cervical spine. He is also trained in minimally invasive surgery of the spine.
Dr. Chang has many publications and presentations to his credit on both the national and the international level. He enjoys continuing his academic and research activities at the Sonoran Spine Center in order to help advance the field of spine surgery. He is a highly valued addition to our team of spine experts.
Education
Dr. Michael Chang received his Bachelor of Science degree in biomedical engineering, Magna Cum Laude, from Harvard University in Cambridge, Massachusetts. He then went on to receive his medical degree from Harvard Medical School in Boston, Massachusetts. Dr. Chang completed his orthopedic surgery residency and internship at the University of Iowa Hospitals and Clinics in Iowa City, IA, under the tutelage of some of the best-respected orthopedic surgeons and past presidents of the American Academy of Orthopedic Surgeons.
Fellowship
After finishing his year as the Chief Resident of orthopedic surgery at the University of Iowa, Dr. Chang subsequently was accepted to the most prestigious and rigorous spine fellowship in the country at Washington University in St. Louis. There, he completed a fellowship under world-renowned leaders of spine surgery, Keith Bridwell, MD, Lawrence Lenke, MD, and K. Daniel Riew, MD.
Certification
Dr. Chang is board certified by the American Board of Orthopedic Surgery. He is a member of the Scoliosis Research Society, the North American Spine Society, and the American Academy of Orthopedic Surgeons.
www.sonoranspine.com